Revolutionizing lung cancer treatment and reducing Mid-South lung cancer deaths by 25% by 2030
Lung cancer is one of the leading causes of death in the Mid-South. In fact, the rate of lung cancer deaths in Tennessee, Arkansas and Mississippi is nearly double that of the rest of the United States. Moreover, while the number of deaths associated with lung cancer is on the decline nationally, many counties in the Mid-South are seeing a steady increase due to lack of awareness of risk factors, inadequate access to lifesaving treatments and techniques, and late-stage diagnoses.
To change the trajectory of this disease in the region, Baptist Cancer Center has developed the Mid-South Miracle, a multifaceted approach to preventing and treating lung cancer. This initiative leverages the extensive resources of Baptist Cancer Center along with the collective knowledge and expertise of our oncologists, surgeons, radiologists and pathologists to achieve prevention, early detection and faster treatments.
By mobilizing the Mid-South Miracle initiative and extending its reach to rural communities of the Mid-South, Baptist Cancer Center aims to increase lung cancer survival rates in the region and redefine lung cancer as a preventable, curable form of cancer. Through seven program components, Baptist Cancer Center physicians believe they can achieve a Mid-South Miracle and reduce lung cancer deaths in the region by 25% by 2030.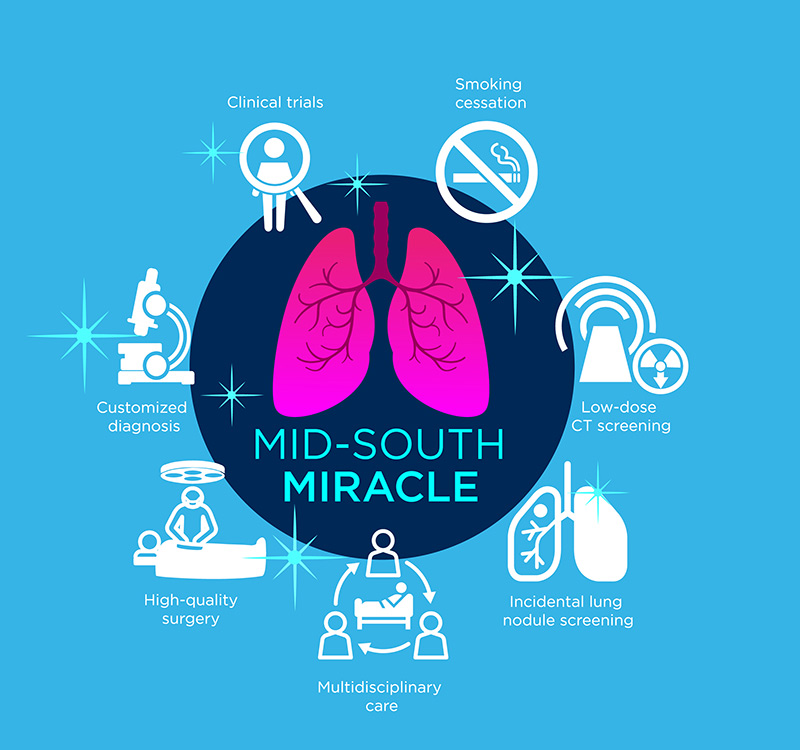 Smoking cessation
Tobacco use, specifically smoking, is the largest contributor to lung cancer. Helping users quit their smoking habit is the first line of defense. By addressing this primary and completely reversible cause of most lung cancers, the Mid-South Miracle looks to reduce the number of lung cancer cases, as well as rates of lung cancer-related deaths, through effective and accessible smoking cessation programs.
Low-dose CT screening
Nearly half of all non-small cell lung cancers are diagnosed at stage 4, when the cancer is incurable. With regular low-dose CT scans, lung cancer can be caught at an earlier stage, when it is more treatable. However, only approximately 5% of eligible individuals undergo annual low-dose CT scans. A primary goal of the Mid-South Miracle is to overcome this deficit with aggressive physician and patient education. For more information, please visit baptistcancercenter.com/lung.
Incidental lung nodule screening
One of the biggest reasons lung cancer is the leading cause of cancer deaths is it is often diagnosed at later stages. But through Baptist Cancer Center's incidental lung nodule program, tumors or growths on the lungs are detected and evaluated at much earlier stages, often before patients display symptoms. When suspicious or irregular growths are captured on CT scans for unrelated hospital stays or emergency room visits, Baptist Cancer Center physicians are alerted. They review the images and follow-up with patients and their physicians.
Multidisciplinary care
The Mid-South Miracle offers a transparent, multidisciplinary approach to patient care. During a weekly conference, radiologists, pathologists, surgeons, medical and radiation oncologists, clinical research team members, nurses, and support staff discuss specific patient cases. Using their collective expertise, the team reaches a consensus to ensure the best care is administered, significantly improving patients' outcomes and chances for a cure.
High-quality surgical care
When planning for lung cancer surgery, Baptist Cancer Center surgeons look beyond the operating room. Starting with a complete understanding of the patient's risks and preferences prior to surgery, our physicians can identify the markers and variables that indicate the kind of additional care a patient requires after surgery. This allows us to administer therapies and other follow-up care sooner and with more efficacy to help ensure the success of the surgery.
Customized diagnoses
Our Baptist Cancer Center team understands that each cancer and cancer patient are unique. As we learn more about the characteristics of specific cancers, it's become apparent that generic cancer therapies are not as effective. The Mid-South Miracle addresses this issue by making sure pathologists provide patient-specific care. This includes performing specific genetic tests on a patient's lung cancer so that providers understand what type of lung cancer is present and which treatment would be most effective.
Clinical trials
Previously, clinical trials were relegated to academic medical centers. However, we realize that the best treatment for some patients may be a clinical trial. Baptist Cancer Center is committed to a research infrastructure that allows every patient with lung cancer, regardless of stage or extent of cancer, to access potentially life-changing therapies.
Defeating lung cancer together
Lung cancer can, and must, be defeated. But it will take the concerted efforts of physicians, clinical staff, health care systems and an informed public to reverse the rising trend of deaths associated with lung cancer in our communities. The Mid-South Miracle is Baptist Cancer Center's commitment to leading that fight.
Get More Information
Please provide your information to be contacted by a Baptist Cancer Center representative.