Saving Lives Through Innovative Lung Programs and Treatments
Baptist Cancer Center's Thoracic Oncology program is focused on integrating high-quality, collaborative patient care and research to offer better treatment options for patients diagnosed with lung cancer.
Lung cancer is often diagnosed at a late stage, affording few options to the patients leaving them and their families feeling hopeless. However, our team of experts take a different approach - incorporating the latest treatments and research trials into the patient's overall treatment plan - leading to higher than average survival rates and an individualized treatment plan.
Earlier Detection with Lung Screening
Low Dose CT screening
There are clearly defined high risk factors for developing lung cancer. Through our work with primary care providers and internal medicine physicians we are working to detect lung cancer at earlier stages through risk assessments and a program of low dose CT scans for individuals who meet the high risk criteria. This allows us to monitor patients for early detection and treatment of any nodules that may develop.
Lung Nodule Program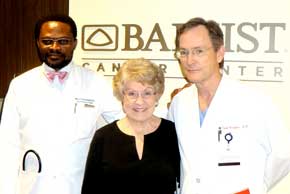 For patients like Marthanne Maroney, whose emergency appendectomy originally landed her in the hospital, lung cancer was the furthest thing from her mind. A chest X- ray performed as a standard part of her care at Baptist revealed a tiny spot on her lung. The spot was flagged and sent on for further testing through Baptist's lung nodule program. The chest X-ray saved her life, as further testing revealed she had lung cancer.
The purpose of the Lung Nodule Program is to detect lung cancer at its earliest stage for higher survival rates by examining patient data for lung nodules, including those who visit the doctor or emergency room for other reasons. As many as 20% of people who die from lung cancer in the United States every year have never smoked or used tobacco. Baptist has developed a targeted earlier detection lung nodule program to identify those who do not meet the high risk criteria and may develop lung cancer. Electronic health records are searched for patients who may have lung nodules unrelated to other medical problems. We then contact the patient's primary care physician to coordinate their follow-up care. This systematic process allows for earlier detection of any potentially malignant lung disease, which can then be treated before the lung cancer has spread through the body. The Incidental Lung Nodule Program examines patient data from the approximately 100,000 tests and procedures conducted annually throughout Baptist Memorial Health Care's system that could produce images of the lungs. To date, the lung nodule program has detected approximately 150 cancers, allowing patients an opportunity to seek early treatment for lung cancer.
Achieving Higher Survival Rates
Multidisciplinary Thoracic Oncology Clinic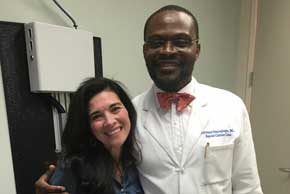 Gina Hollenbeck is a young mother who had never smoked a day in her life and was puzzled by her sudden and rapid weight loss. To her shock, as a non-smoker she was ultimately diagnosed with stage four lung cancer. Like many other patients, Gina was given hope through Baptist's Multidisciplinary Thoracic Oncology Clinic, a collaborative approach to care in which doctors from multiple specialties consult on patients' treatment (at no extra cost to the patient) as a group. In the multidisciplinary lung program, oncologists, a pulmonologist, a pathologist, a radiologist, a thoracic surgeon, a nurse navigator and data managers gather in a weekly conference to review each patient's case. This conference also includes remote participation by lung cancer care providers at other Baptist Memorial Health Care facilities across the region. This care coordination enhances the clinical care for the lung cancer patient. Baptist Cancer Center was awarded a Patient Centered Outcomes Research Institute grant to evaluate our work in treating lung cancer patients using this multidisciplinary approach compared to traditional serial care where patients might go from one doctor's office to the next.
Research clinical trials
Baptist offers many clinical trials for lung cancer patients, including preventive, treatment and screening trials. The Mid-South region suffers from an abundance of disparities related to higher cancer death rates in minorities. At Baptist Cancer Center, we are committed to changing this reality through our participation in the National Cancer Institute Community Oncology Research Program (NCORP) as one of only four non-academic institutions in the nation. NCORP brings researchers together with local physicians to conduct high quality clinical trials for cancer patients directly in their community to provide Mid-South patients unprecedented access to clinical trials and research. Please visit baptistcancercenter.com/research for more information about our clinical trials.
Financial Counseling
Get help making informed, financial decisions about your cancer treatment.
ESTIMATE COSTS
Locations & Directions
Find maps and more for all directions.
GET DIRECTIONS
Appointments
Walk in, or call us today.
REQUEST APPOINTMENT